Nan Hua Temple – South Africa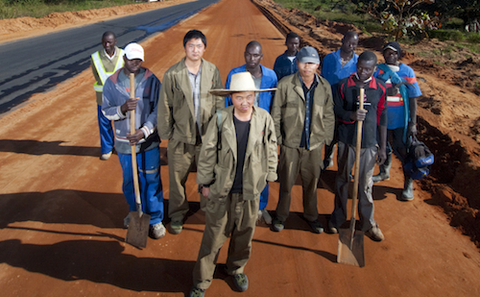 China-Africa Trade Fair
African student Chinese job fair
China Star Times is one of the largest media companies in Africa.
What China gets from Africa
Raw Materials like – Oil, Iron, Copper
They love the stable weather, vast open land, and the ability to start their own businesses.
What Africa Gets From China
Infrastructure Development
Here are some examples of Chinese Infrastructure Projects
Modderfontein South Africa. $7 billion
????????????????????????????????????
2. Lamu Port $24 billion
3. Kilamba, Angola  $3.5 billion
4. Abuja Metro rail
5. Brazzaville airport
6. Pan African Games stadium complex $500 million
7. Addis Ababa Metro   $475 million
8. Africa Union Headquarters, Addis Ababa  $200 billion
9. State Commercial Standard Bank Ethiopia
10. Ethiopia to Sudan highway –
11. Abidjan Stadium  60,000 Capacity stadium for Ivory Coast
12. Mbini Bridge Equatorial Guinea (Worlds 25th longest suspension bridge)
13. Two Rivers  Shopping Mall, Nairobi, Kenya
$587 million dollars
14. Thika highwayin Kenya
.
15. Great Wall Apartments Nairobi, Kenya
16. National Theatre, Accra, Ghana
Countries in Africa with the most Chinese people
South Africa 500,000
Angola 400,000
Zambia 100,000
Madagascar 100,000
Nigeria 100,000
Ethiopia 60,000
Ghana 60,000
Namibia 40,000
Mauritius 40,000
Kenya 30,000
http://china-africa-reporting.co.za
http://www.chinaafricarealstory.com/
http://www.chinaafricaproject.com/