Charles Ampofo
Source of Wealth: Diversified
Net  Worth : $1.5 billion
is the Chairman and Founder of Kampac Group which is headquartered in the business hub of Dubai in the United Arab Emirates. The Group engages in various activities and operates Kampac Oil as its primary business. Other companies under the group, includes Kampac Properties, Kampac Travels, Kampac Flora, Kampac Telecom and Kampac Resources. Read more about him here.
2. Sam Jonah:
Source of Wealth : IT
Net Worth: $1.2 billion
He is the Executive Chairman of Jonah Capital, equity fund based in Johannesburg, South Africa. Mr Jonah was previously President of AngloGold Ashanti and shared the strategic leadership of the company with its CEO, Bobby Godsell.
He became Chief Executive of Ashanti Goldfields at the age of 36. As CEO, Sam Jonah supervised the transformation of Ashanti Goldfields into a mining multinational, increased gold production from 240,000 ounces per annum to over 1.6 million ounces in over ten years, and oversaw the company's listing as the first operating African company on the New York Stock Exchange.
Currently, the Chancellor of the University of Cape Coast, Ghana, Mr Jonah chairs the boards of Equator Exploration Ltd, Scharrig Mining, Equinox Minerals, Uramin, Moto Goldmines Ltd and Range Resources Ltd. Mr Jonah also serves on various boards including Transnet, Mittal Steel SA, Ashesi University, Standard Bank of South Africa, Lonmin, the Commonwealth African Investment Fund (Comafin), the Advisory Council of the UN Secretary General's Global Compact, President Olusegun Obasanjo's International Investment Advisory Council on Nigeria, President Thabo Mbeki's International Investment Advisory Council of South Africa, and President John Kufuor's Ghana Investors' Advisory Council. The list is endless.
He has also won several awards.
Indeed, Her Majesty, Queen Elizabeth II, Head of the Commonwealth, conferred on him an Honorary Knighthood, presented by the Prince of Wales, at a ceremony in June, 2003. The award is in recognition of Dr. Jonah's exceptional achievements as an African businessman, a leading business executive from the Commonwealth, and an international public figure.
3. Roland Agambire    $1 billion
Source of Wealth: RLG
Net Worth: $ 1 billion
4. Patricia Poku-Diaby

Source Of Wealth: Plot Enterprise (Cocoa & Commodities)
Net Worth: $720 Million
Overall Rank: 8
Patricia Poku-Diaby was involved in her family's business (trading and transportation) before she set up the Plot Enterprise Group in Ivory Coast, which was a precursor to the Ghanaian company.
Plot Enterprise Ghana is a wholly Ghanaian owned cocoa processing company. The group has market presence in Asia and West Africa and comprises; Plot Commodities (registered with the Dubai Metal and Commodities Centre in Dubai), Plot Enterprise in Ivory Coast and Plot Enterprise Ghana.
Plot Commodities deals in cotton and cocoa and is registered with the Cocoa Merchants Association of America. Plot Enterprise in Ivory Coast is engaged in the trading of cocoa, cashew nut and wood products.
Plot Enterprise Ghana has a plant which has an annual initial bean input capacity of 32,000 metric tonnes. The implementation of the project began in 2006 with trial runs starting in November 2009.The plant was fully commissioned in January 2010.
5.  Dr. Theresa Oppong-Beeko
Source Of Wealth: Real Estate (Manet Group) Net Worth: $420 Million
Overall Rank: 24
Real estate baroness Theresa Oppong-Beeko's fortune is on the rise thanks to the massive properties she owns in the most expensive neighborhoods in Ghana. The Manet Group owns commercial office properties, over 2,000 apartments, a hotel; 48 room hotel with an amazing array of recreational and leisure activities on offer including Acqua sport and marlin fishing in Ada.
One of the biggest jumps in her assets, though, comes from owning the Manet Towers at Airport City in Accra, Ghana.
6. Prince Kofi Amoabeng
Source of Wealth: Banking
Net worth: $400 million
is the president of UT Holdings, owners of  UT Bank which started as a Lending company.  It extended into full time banking and today has it's branches in 7 out of the 10 regions in Ghana. In 2011, Prince Kofi Amoabeng's UT Bank made $6.93 Million Dollars in profit (according to Wikipedia) with a total of US$378.4 million assets.
6. Kwesi Nduom
7. Dr Kofi Amoah: Dr Amoah is the CEO Of Progeny Ventures and the Citizen Kofi Entertainment Centre. He is credited with bringing Western Union to Africa, and I hear that for every amount transferred to Africa via Western Union, Dr Amoah gets a certain cut. So u can imagine how much he's worth. I hear that's about $250 million.
Dr. Kofi Amoah has served as Non-Executive Director of State Insurance Co of Ghana Ltd since May 29, 2008. He graduated from the Opoku Ware School, Kwame Nkrumah University of Science and Technology (KUNST) and University of California, Berkeley. His professional experience covers Business Management, Business Development and Investment Services.
He worked in the United States at Northrop, Electronic Data System (EDS), Southeast Investment Corporation Development, Elsafe Incorporated, Global One and Bear, Stearns Inc. He is the founder and Chief Executive Officer of Progeny Ventures Inc. Los Angeles, which partnered with Western Union Financial Services and several African Banks in the global Remittances business. He is the founder and president of J.S. Investments Inc., Los Angeles, PPVI Ghana Ltd, and Progeny Aluminum and Design Ghana Ltd. He was a member of Ghana Investment Advisory Council, past member of the Ghana Football Association and Chairman of the Local Orgnanising Committee during the Ghana 2008 tournament.
8. Kate Quartey-Papafio
Source Of Wealth: Cables (Reroy Cables Limited)
Net Worth: $250 Million
Overall Rank: 48
Kate Quartey-Papafio is the founder and Chief Executive Officer of Reroy Cables Limited one of the leading manufacturers of electrical cables in Ghana. Reroy manufactures electrical and telecom cables and conductors predominantly for the international market but has a significant domestic presence as well. The company which now has a work force of over 100, started operations in 2003 and exports mostly to countries in the ECOWAS sub-region.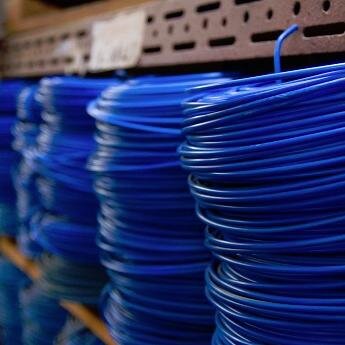 10. Alhaji Banda
Source of Wealth
Net Worth $200 million